So you want to know how to cook a French recipe? Let's start with a very simple one (if I can do it, ANYONE can too!)
"Camembert fondu" (or "baked camembert") is one of the most straightforward French recipes. Camembert is a soft cheese made from cow's milk. It's very popular to eat melted-cheese-dishes in winter (and particularly when you're at a ski resort)
Here's what you'll need:
A camembert
An oven (you could also use a hot plate)
A baking dish
Servings: one or two people (depending on your addiction to cheese!)
Cooking time: around 15 minutes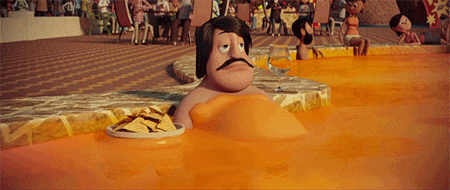 Step 1: remove the wrapping (

l'emballage

) around your camembert, and lay it directly into the bottom part of its (wooden) box (

la boite

). Place it then on a baking dish (

un plat de cuisson

) (in case some cheese escapes from the lid (

le couvercle

).
If your camembert doesn't come in a box, you can place the camembert directly in that baking dish (make sure it's deep enough though so that the cheese doesn't overflow when it's melted);
Step 2: place the dish in your oven (

le four

), turn it on (mild temperature) and let it heat up gently. You don't want the process to be quicker (

plus rapide

) than 15 minutes: give it time to be fully melted (

fondu

) inside but not runny (

liquide

). Watch your camembert: it'll slowly swell (

gonfler

).
Step 3: take it out of the oven when it looks like it's going to explode(!) (

exploser

);
Step 4: using a knife (

un couteau

), draw a cross (

une croix

) sign on top of it (in order to "open" it);
Step 5: Open further more the top part of the camembert, and dip (

trempez

) in pieces of either bread (

pain

) or cooked potatoes.
How do you pronounce "un camembert"?
cover mage credit : https://www.freepik.com/pch-vector