Most of us are now convinced that when it comes to staying healthy, eating raw vegetables is a great starting point. I share here 5 tips on adding raw vegetables to your usual daily meals.
---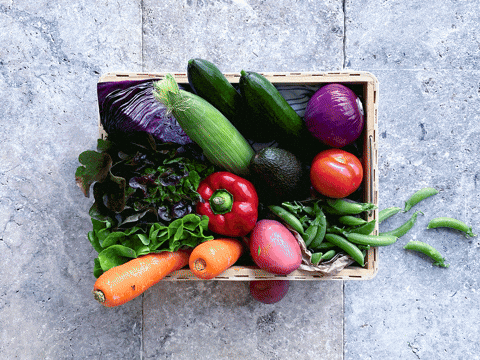 STARTING WITH ONE BITE OF RAW VEGETABLE
I'd suggest starting small. One bite.
Having one bite of a crunchy endive first thing at lunchtime is easy and refreshing. You could also eat a bit of tomato or any other raw vegetable that most appeals to your taste.
Biting into plain raw vegetables is a great way to start eating them, if you aren't accustomed to having them in the first place.
Plus, you won't have to make the extra effort of preparing raw vegetables or have the equipment to chop or grate them. And there's no dressing to make either.
Keep doing this during your first week. This small change in your daily life should be easy enough to stick with.
GETTING ORGANIZED & PREPARING RAW VEGETABLES
Getting organized
For your second week, you'll be able to anticipate and get organized ahead of time.
Make some time during your weekend to prepare for your week to come. I'd suggest putting a couple hours aside.
Create a weekly schedule and write down what raw vegetables you're going to add to your daily meals.
Once it's done, create your grocery list, go shopping and have all your raw vegetables at hand (in your fridge).
Preparing raw vegetables
Once you've bought all your raw vegetables, it's time to prepare them for your coming week.
Please note that as raw vegetables tend to dry out after a few days, I'd suggest preparing them for no longer than a week in advance. Make sure you put them aside in closed box (preferably made of glass) and place them in your fridge (top shelf is ideal).
Getting the dressing ready
You might want to prepare some dressing ahead of time as well. You'll find plenty of inspiration over the internet: feel free to choose the one that sounds most appealing to you.
Once all is organized and prepared ahead of time, it'll be easy to stick to your new routine.
MAKING EATING RAW VEGETABLES A PRIORITY
Eat raw vegetables first
When you're seated at your dinner table, have a bowl of raw vegetables first thing before having anything else.
See it as a priority. Your health is priority, therefore the way you feed your body is one as well. Raw vegetables tend to contain more vitamins and minerals because they haven't been processed or transformed. This is another reason why it's a healthy choice of food.
Make them a priority at least once a day. Make them your priority also once a week when you prepare them for your coming week. This small change in your habits will bring great rewards
Eat raw vegetables on any occasion
Raw vegetables could also be seen as great appetizers: you could also place bowls of various raw vegetables on the coffee table for your guests to enjoy ahead of the actual meal.
How often should we eat raw vegetables?
How often should I be eating raw vegetables? You may include raw vegetables in your lunch or in your dinner, or both. What you should be focusing on is that you'll need at least one serving a day to make a difference in the long run. One of the (many) reasons why we eat raw vegetables is for the fiber they contain, so it seems logical to have them at every meal (if not, at least once a day)
This serving of raw vegetables is a tasty bite of fresh food. It could also be seen as preparatory dish to what's to come during your meal. Raw vegetables provide you with fiber. Fiber is renowned for slowing down the absorption of sugar. So more the reason to have raw vegetables at every meal, and on every occasion.
Will eating raw vegetables increase my monthly budget?
I would give you both answers: yes and no.
Yes, it might. Especially if raw vegetables are something you're going to add on top of what you usually buy. I'd like to think that the money spent in high-fiber healthy food is the greatest investment one could make for a healthier life.
And no, if you decide to replace some of the food of "less quality" you used to buy with delicious and fresh raw vegetables.
This new frame of mind will support you in your effort to make a change of diet.
MAKING EATING RAW VEGETABLES EASY
Bowl-sized portion of raw vegetables
I find bowl sized portions quite handy. You'll just have to put all your (nicely chopped? Shredded?) raw vegetables in one bowl, add the dressing and a fork. This way you won't have to worry about it and will be able to fully focus on preparing the rest of your meal.
Getting equipped to prepare raw vegetables
Biting in an endive is refreshing, but what if you could cut it into small cubes and add some dressing to it? It'd definitely be even tastier.
Check your cupboards and look for any equipment that might help you preparing raw vegetables.
If you don't have one, you could start by having a wooden plank in your drawer along with a few good chopping knives. A cheese grater would also be a great accessory if you're willing to shred your raw vegetables manually.
Getting prepared is half the work done. All you need to do now is help yourself with a box of raw vegetables from the fridge, add the dressing and grab a fork!
MAKING EATING RAW VEGETABLES EVEN EASIER!
Getting additional equipment to prepare raw vegetables
The next interesting tool to have (and that'll change the way you prepare food) is a food processor. Not only will it quicken the preparation of your raw vegetables, but it'll do a better job at cutting them in thin and nicely shaped slices and bits.
You'll be able to get evenly cut slices of cucumber and tomatoes, for example. You'll also be able to have bowls of shredded cabbage or carrots in no time. Some of them also give the option of preparing the dressing: mayonnaise, salad dressing, etc.
Portions of raw vegetables at hand
When preparing your raw vegetables once a week, you could put each of your 7 (or 14) servings in separate (glass or plastic) boxes in your fridge. This way you'll gain even more time: you could grab your box of raw vegetables for the day, open it and eat right out of it.
Having nicely shredded or sliced bits of raw vegetables will make them look even more appealing to you: you'll want to eat them even more.